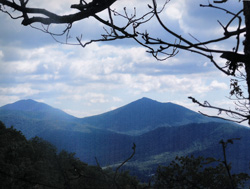 A JOURNEY THAT CONTINUES TO ENOBLE
By George Brosi
Editor, Appalachian Heritage

Earl Hamner's roots run deep in Virginia's Blue Ridge Mountains. His mother's people, the Gianninis, came to America from the village of Lucca, Italy. Anthony Giannini was a gardener for Philip Mazzei but he also helped Thomas Jefferson set up vineyards at Monticello. When a descend

ant of Anthony, Doris Marion Giannini, at the tender age of 16, was courted by Earl Henry Hamner, Sr., four years her senior and known to be a wild young man. Her devoutly Baptist mother, Ora Lee, forbade her to see him. But Earl was a persistent suitor, and he was in love. When he and Doris married, Ora Lee Giannini swore she'd never speak to her daughter again. Eventually, however, Ora Lee saw that the marriage was a good one. Earl proved his worth, and reconciliation took place. Ironically, the first Earl Henry was named for his mother, Susan Henry Spencer Hamner -- whose father wanted a boy. The Hamner family came to Virginia from northern Wales where they had been well established for over a thousand years.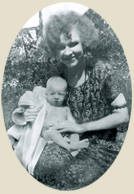 In the early 1900s, the Hamner family moved from its James River tobacco farm to the town of Schuyler -- named for its first postmaster -- on the eastern slope of the Blue Ridge. Today it is home to "The Gathering," a group of disciples of the psychic Edgar Cayce. In the beginning, Schuyler was a company town centered around the New Alberene Stone Company which mined and milled soapstone. Earl Sr. worked there when their first child, Earl Jr., was born on July 10, 1923.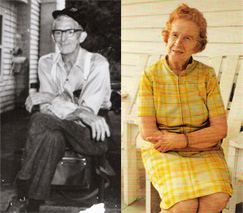 Money was short, and books were a luxury they could not afford. Their "library" consisted of the Holy Bible, (the King James Version), and a manual of bee-keeping. Doris and Earl strongly encouraged all the children in their growing family to excel, and Earl Jr. became interested in writing at an early age. He was writing his numbers at the age of two and reading at four. His poem "My Dog" was published on the Children's Page of the Richmond Times-Dispatch when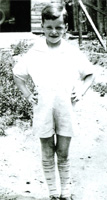 he was six. Earl claims he knew he was going to become a writer from that day.
During the Great Depression, the New Alberene Stone Company was forced to close. Earl Sr. then found work across Afton Mountain in Waynesboro, Virginia, as a machinist at a DuPont factory, some 33 tortuous highway miles away. He stayed in a boarding house in Waynesboro through the week and every weekend took the bus to Charlottesville and then transferred to another bus which took him to Hickory Creek, and then a six-mile walk on home. This six-mile hike on Christmas Eve of 1933 became the inspiration for his son's novel The Homecoming, which was to become the well-loved Christmas television special by the same name. There were to be eight offspring in all including Earl Jr.; the couple completed their family when their third girl, Nancy Alice, was born in 1940.
| | | |
| --- | --- | --- |
| | | |
| Audrey Jane | Nancy Alice | Marion Lee |
In his biography of Hamner, Jim Person describes Earl Sr.:

"He enjoyed storytelling, hunting, fishing, and occasionally drinking a little too much of a bootlegged liquor known as 'the recipe' which was distilled by a pair of elderly neighbors, a widow and her maiden daughter. Full of life, he would on occasion look lovingly at Doris and exclaim, 'What a woman I married!' and then lift her in his arms and whirl her about. At other times he would gaze at his eight red-haired children seated around the kitchen table and declare, 'All my babies are thoroughbreds.'"
| | | | |
| --- | --- | --- | --- |
| | | | |
| James Edmund | Paul Louis | Clifton Anderson | Willard Harold |
Even though Earl Sr. had little formal education and Doris hadn't gone beyond high school, they had a reverence for education and encouraged their children to stay in school. Olive Giannini, Earl Jr.'s great aunt, was his sixth-grade teacher and also encouraged his interest in writing and in education. Nevertheless, Earl Jr. had never been more than forty miles away from home until he went with his fellow seniors on a trip to the World's Fair in 1939 in New York City. Earl recalls that the family had never had a telephone and that on the New York trip he had to be shown how to "work" one. That same year young Earl graduated at the top of his class from Schuyler High School.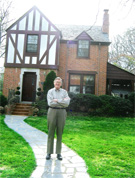 The wife of the local doctor, Laura Horsley, became aware of Earl's promise and was influential in his receiving a scholarship to the University of Richmond. Attending the university was still a financial challenge because the scholarship took care only of tuition. Three of his father's sisters shared a home at 29 Willway Avenue in Richmond, Virginia. It was not a light undertaking, but they were open to the idea of Earl Jr. coming to live with them while he studied at the University of Richmond. Nora was an executive with the American Lung Association. As a young woman she had traveled the Blue Ridge back country as a nurse on horseback. Lottie, a divorced mother, was an office manager, and Margaret was a dietitian at Camp Merriwood Harrison, a summer camp on the outskirts of Richmond for underprivileged children. Their "colored girl," Sally Royal, and their mother, Susan Henry Spencer Hamner, filled out the household.
Earl worked in the summer painting dorms and was a dispatcher for The Brooks Transportation Company during the school year to help pay his expenses.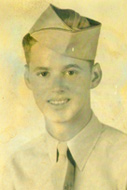 In 1943, in the middle of his sophomore year, Earl Hamner was drafted into the U.S. Army. He trained initially at Fort Knox where he almost learned to drive a Sherman Tank. He succeeded in getting one so stuck in the mud that to this day no one has quite beat his record. There he became friends with a fellow soldier, Paul Nusnick, a Jewish man from Philadelphia, and one of the most profound influences on his life. Nusnick hated the Army, but loved American literature and introduced Hamner to a long list of authors, including Thomas Wolfe, Sherwood Anderson, F. Scott Fitzgerald, and William Faulkner. Hamner then spent several months at the 19th Replacement Depot in England learning how to diffuse land mines, one of the most dangerous of Army jobs. Two months after D-day he landed on Omaha Beach, and, because his officers had discovered that he knew how to type, he was re-assigned to the 542nd Quartermaster Corps which he served in Paris. He loved Paris, learned to speak French, and made friends with the French people including a special girl named Jeanine. It was here, after the end of the war, that he began in earnest sending off stories for publication and amassing rejection slips.
Hamner was discharged from the Army in March of 1946 and returned to Richmond. His Aunt Nora knew he wanted to be a writer, so she introduced him to Bill Robinson, an editor of the Richmond News Leader who referred him to local radio station WMBG. He was hired as an apprentice in the Program Department. For Earl this led to a lifelong excitement about radio, its power to come into people's homes, to inform and to entertain. He was determined to learn more which led him to a special summer program at Northwestern University.

The following fall he applied and was accepted at the University of Cincinnati's program in broadcasting. While in Cincinnati, he worked at a variety of jobs, including doing a door-to-door survey. One of the people he surveyed on that job was Mina Barton who answered the question about her vocation with the entrancing word "editor," leading her interviewer to confess his goal of becoming a writer. She gave him a copy of Writer's Digest, a journal for aspiring and professional writers which was and is published locally.
In June of 1948, Earl Hamner received a Bachelor of Fine Arts degree with a major in broadcasting from the College of Music of the University of Cincinnati and was promptly hired full-time by WLW, Cincinnati's most powerful radio station, where he had worked part-time while finishing his degree. When he won an award for script-writing during his first year, a fellow recipient was Rod Serling, who had attended nearby Antioch College, and they formed a friendship which ended up lasting a lifetime.

While working for WLW, Hamner was also deeply involved in the writing of his novel which was to become Fifty Roads to Town. When he found an ad in Writer's Digest for a modest "writer's retreat" cabin without electricity or running water for cheap rent, he responded. He quit his job for WLW and went to live in the Ouichita Mountains of Arkansas for the summer of 1949. The station hired Rod Serling to replace him -- which explains why Serling in later years often introduced Hamner as the person who gave him his first job!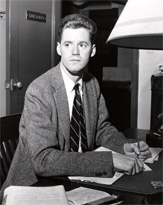 From Arkansas, Hamner went back to Virginia for the wedding of his sister, Marion, to Glen Hawkes. After the wedding he hitched a ride up to New York City where he found a temporary Christmas sales job at Macy's. Soon he was hired as a radio writer by the NBC network.
In 1953, on a Friday afternoon, he submitted his first novel Fifty Roads to Town to Random House. The following Monday morning he received a call from editor Belle Becker to say that she had read the book over the weekend and that it had been accepted for publication! On the jacket it was described as "a novel based on the strange folkways of Earl Hamner's own people." When Random House sent him down to an autographing in Richmond, he learned that his Aunt Nora "took to the bed" after reading it, exclaiming "nobody in our family has ever worshiped our Maker by dancing on the piano, and no one in the family, as far as I know, has ever voided on the ground." She was referring to the fact that one scene in the book described an orgiastic religious ceremony. In another, one of the characters, a mentally challenged man, urinated out in the woods. Finally, he was able to persuade her that he was writing about fictional holy-rollers in a fictional Southern village and not about the Hamner family.
One of the radio programs that Hamner wrote for was Biography in Sound. Because he had become stuck on a stalled subway train, he was forty minutes late for his interview with Eleanor Roosevelt for the piece on her "Uncle Teddy." When he started to apologize, she said, "Please, you gave me time to catch up on some letters." He suggested that NBC do a segment on Thomas Wolfe, and they agreed. He was able to gather many people who had been associated with Wolfe including Tom's sister, Mabel Wolfe Wheaton. They became good friends, and she visited him often in New York.



As television became more and more important, Hamner became more and more involved in that media and less involved in radio writing. In February 1954, he met Jane Martin at a New York restaurant and immediately told his friends, "I've just met the girl I'm going to marry." She was from Davenport, Iowa, and had degrees from Ward Belmont College in Nashville and the University of Iowa. At the time, she was an editor at Harper's Bazaar, and Hamner was a television writer for NBC who drove a Ford convertible and rented a cottage on Lost Lake in Upper Westchester for the weekends. They were married on October 16, 1954, at St. Bartholomew's Episcopal Cathedral in New York City.
In 1956, a son, Scott, was born to the couple, and in 1958, a daughter, Caroline, was born.
| | |
| --- | --- |
| | |
| SCOTT, appearing in Earl's movie, The Homecoming | CAROLINE, appearing in Earl's movie, The Homecoming |
The Hamners rented a house on Fire Island, a popular resort parallel to Long Island. Earl worked in the city during the week and then joined his family on Friday on the "Daddy" boat, and returned to Manhattan on Monday morning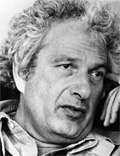 on the "Purgatory" boat. Next door lived a man who Hamner describes as a "tall, impressive, sharp-tongued guy" who worked at the ad department of Time/Life. He confessed he was working on what he would only divulge as a "little comedy." In 1961, Joseph Heller published his "little comedy" which turned out to be Catch-22!
That same year, Dial Press published Spencer's Mountain, a novel by Earl Hamner. The title came from his paternal grandmother's family; the story from his own experience growing up in the Blue Ridge Mountains of Virginia. That same year, with two young children in tow, the Hamners made the momentous and gutsy decision to move to Southern California because the center of television production was clearly moving from New York to California. They brought with them dogs, rabbits, guinea pigs, turtles, and a chipmunk. His book, The Avocado Drive Zoo: At Home with My Family and the Creatures We've Loved (1999), describes these first years they were in California.
Soon after they moved, Hamner submitted some script ideas to his friend, Rod Serling, and was hired to write for The Twilight Zone. In an interview with Tony Albarella published in Filmfax, Hamner commented,
"I was raised on folk songs and folk stories, and I suppose it was inevitable that this kind of material worked its way into my writing. Several times I was able to use folk material in my Twilight Zone episodes, and I thought it courageous of Rod to accept this 'offbeat' kind of storytelling. Looking back, I realize that if I made any unique contribution to the series, it was to introduce the American folklore element into it."
Meanwhile, Warner Bros. had purchased the film rights to Spencer's Mountain. After the film came out in 1973, starring Henry Fonda and Maureen O'Hara, Hamner was commissioned to write a film for Warners called Palm Springs Weekend, and he was well on his way to a successful Hollywood career. In an interview with Australian journalist Alex Paige, Hamner noted his astonishment to find himself a "success" in Hollywood:

"I think one of the first social occasions we had was at a hotel over in Westwood called The Marquee. I was the host, and as I looked down over the table I thought, my God, here I am, a country boy from the backwoods of Virginia, a redneck, a hillbilly, who accidentally became educated and privileged, and I'm looking down the table where I see Jane Wyman, Cesar Romero, Esther Williams, Fernando Lamas, Susan Sullivan, Bob Foxworth -- I mean, here I am, the host for these brilliant stars! And I am very starstruck, even today I look at actors and I keep forgetting that I hire actors -- and fire them!"
In 1965, Dial published Hamner's novel, You Can't Get There from Here. The story revolved around a day-long search through the streets of New York for his father by a boy who had spent the summer with his grandparents in Virginia. Composer Richard Rodgers fell in love with the book and optioned it planning to fashion it into a Broadway musical. Earl met with Mr. Rodgers and discussed the project. Sadly, the composer died before finishing the musical.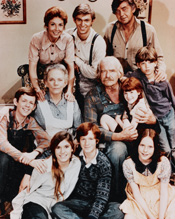 In 1970, The Homecoming was published by Random House. It became a CBS Christmas television special, and then in 1972, the basis for the long-running series, The Waltons. The first year it received five Emmys, and it ran for nine years. As the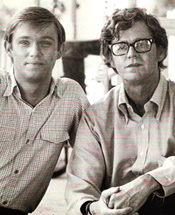 producer and creator of the series, Hamner had other writers working under him. He describes his role as sometimes more of a re-writer than a writer, but points out that this position allowed him to attempt to provide a depth of character for his actors that is seldom achieved in television. Hamner loves to tell stories about his interactions with actors. He told Alex Paige:
"I remember David Selby once when he was starring on Falcon Crest said, 'Earl, do I really have to say this crap?' And I said, 'No David, let's make it right for you!' But that was quite rare. I remember once Michael Learned objected to the fact that she poured coffee all the time as her character. So . . . I changed it so the next episode the father was pouring the coffee. . . . [Once] Ellen Corby came to my office and she had rewritten a seven-page scene so it was 12 pages long. And I looked at it and I said, 'Ellen, I'm not going to let you do this.' So she marched all the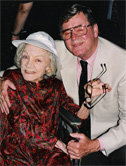 way over to the doorway, and looked back at me and said, 'You son of a bitch!' (laughs) I mean, this was this nice old lady, Grandma -- so we got over that anyway; we really were fond of each other. When she died, Michael Learned called me and said, 'We're putting Ellen's ashes in the mausoleum today. Would you like to come?' I said, 'of course,' and so I thought, I should take something. Flowers. Then I thought, Ellen would hate flowers! And so I sat down and I wrote a beautiful scene which Ellen as Grandma dominated. It was put in the vault with her ashes."
Of course, The Waltons has made an indelible impression on television audiences worldwide and deeply impacted Hamner's own family. He told Deborah Rieselman of the University of Cincinnati Magazine that once his brother Jim got a speeding ticket, and the police officer called him "Jim-Bob"!
While working tirelessly on The Waltons series, Hamner continued to write for film. Two of his best-known achievements were Where the Lilies Bloom, originally written by Bill and Vera Cleaver, and Charlotte's Web, which he adapted from the E. B. White classic. When Hamner was invited to the University of Cincinnati in 2004 to receive the Frederic Ziv Award for outstanding achievement in telecommunication, he told his audience:

"Writing is a very emotional experience for me. Once, when I was writing the film adaptation of Charlotte's Web, the phone rang and the caller said, 'You sound all choked up.' I said, 'A spider just died.'"
When The Waltons' run finally ended, Hamner had been working on two fairly distinct ideas which he combined in the Falcon Crest series. It was about an Italian family in the vineyard business, like his mother's people, the Gianninis, but set in California's Napa Valley. Hamner told Tony Albarella in an interview for Filmfax:

"Falcon Crest may seem a startling change of pace from The Waltons, but in many ways the Gioberti family of Falcon Crest were The Waltons of today. The matriarch of the family, played by Jane Wyman, was proud of her family, and, while she often was underhanded in doing so, she did everything she could to nurture the rituals, history, and customs of her family. She was proud of her land, valued the continuity of it, and I suspect would have gone to any lengths to protect it."
After five of its nine seasons, Earl Hamner quit the series. He told Paige:

"Well, I left at the end of the fifth season. I never even watched it again; I was not pleased with the direction it was going in. I also was not sympathetic to some of the people that were brought aboard. And I was tired, and being in charge with whatever happens on the show, you take the glory and the credit as well, but I had taken that for so long, about fifteen years with both The Waltons and Falcon Crest, so I was very tired, and I didn't feel that I was coping as I might. And also I had become comfortable financially and didn't need to work. Although now, I need to -- not for the money, but to prove to myself and to others in the business that age need not impair one's talent, but on the contrary can contribute the benefit of experience the years have brought and, if we've been lucky, even a small smidgen of wisdom. I think that's been the story of my life on television. To try to tell a story, when networks have always insisted on the element of sex and some violence. And violence is not something that I care for. Sex I do care for."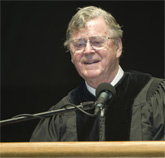 But, as he told students at the University of Cincinnati in 2004,
"Television has the power and the ability to enlighten, to educate, to lift viewers to new levels of experience, but there is also a lot of vulgarity. Too much of what we see seems to be written from the groin. I urge you to write from your heart...."
After he left Falcon Crest, Hamner formed a production company with Don Sipes which produced many shows, including Snowy River: The McGregor Saga (1993-1996), The Ponder Heart, based on a novel by Eudora Welty (2001), and even an episode of The Wild Thornberrys for Nickelodeon. They also collaborated on a book, Murder in Tinseltown (2000).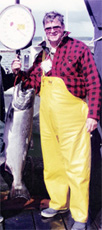 Today, Earl Hamner still writes every day and is still involved in television, although he claims that on his visits to the networks they offer him a glass of warm milk and help him to his seat! If anything, he has stepped up his book writing. Goodnight John-Boy (2002), The Twilight Zone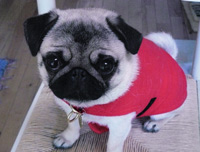 Scripts of Earl Hamner (2003), and Generous Women (2006) have ensued. However, he also feels free to fly-cast for bone fish in Florida, troll for salmon in British Columbia, and seek marlin in Baja. At home he has 50 Bonsai trees to tend, and he and his wife have a Pug named Peaches who adores Jane and tolerates Earl. At the moment he is adapting Spencer's Mountain into a stage play to be performed at the Earl Hamner Theater and also completing a book of short stories.
Earl Hamner summed up the credo of his life and work to the electronic media students at the University of Cincinnati:

"Without courage, honor, compassion, pity, love and sacrifice, as William Faulkner pointed out, we know not of love, but lust. We debase our audience. But we can ennoble and enrich our viewers and ourselves in our journey through this good time, this precious time, this great and wonderful experience we call life."
Reprinted from the Spring 2007 issue of Appalachian Heritage, which features Earl Hamner