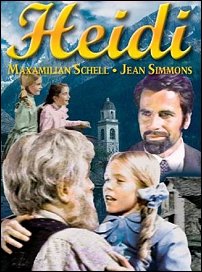 In 1967, I was assigned by producers Fred Brogger and Jim Franciscus (through their Omnibus Productions) the happy task of adapting the children's classic Heidi as a movie for television.

Johanna Spyri's book is of interest mainly to little girls. Fred and Jim's one requirement was that the script be written and the characters modified so that it might appeal to the entire family. It's risky to fool with a classic, but I proceeded with caution -- hoping, as in the oath all doctors take, "to do no harm."

What guided me were the basic characters Spyri had created so beautifully. So rather than changing them, I dug deeper into their characters and supplied motivation that was not always spelled out in the original. Heidi's grandfather is a recluse in the book. In the movie I provided reasons for his having retreated from the world. I softened Fraulein Rottenmeier's character, made her a bit more human, making it plausible that a love story could develop between Fraulein and Heidi's father.

Brogger and Franciscus were dedicated producers, involved in every step of the production. Under their guidance and that of director Delbert Mann, an extraordinary cast was developed. Jennifer Edwards, daughter of director Blake Edwards, was a magical Heidi. Some of Europe's finest actors signed on: Maximilian Schell, Sir Michael Redgrave, and Walter Slezak. Jean Simmons completed the cast as the now-more sympathetic Fraulein Rottenmeier.

To their credit, the producers always sought outstanding talent and were extraordinarily lucky to interest the fabled John Williams to write the music for the film. With an excellent script, a splendid cast, and a legendary director, the producers made another sound -- if somewhat challenging -- decision. They would shoot the film in Europe.

The writer, at this point, is usually shunted aside unless some rewrite is required. (I once had a producer, after turning in my script, refer to me affectionately but candidly as "last week's writer.")

I was lucky. Fred Brogger invited me to explore locations with him. We met in St. Moritz and found lodging at a grand old hotel, Hotel Waldhaus, located in the nearby village of Sils-Maria. We arrived there after dark; and to wake up at first light, go to the window, and discover the towering, close-by, snow-covered Alps was an occasion for awe.

Cut now to Sunday evening, November 17, 1968. At seven o'clock, my family and I turned on the television set to watch the film. Not being much of a sports fan, I was not aware that in order to start Heidi on time, NBC had cut away from a game between the Oakland Raiders and the New York Jets before it was finished. And while the beautiful shots of the Alps and John Williams' soaring score filled the screen, all hell broke loose back at NBC. So many outraged football fans flooded the network with phone calls that fuses in the switchboard blew out. When callers could not get through to the network, they called the New York Police Department, The New York Times, and the New York Telephone Company. When it was learned that two touchdowns and two extra points were scored after the game was taken off the air, the anger soared and continued all night and all week. Steps were taken at each of the networks to ensure that such an interruption to a football game would never take place again. The president of NBC, Julian Goodman, issued an apology. Later in the week, the network ran an ad featuring the excellent reviews our movie had earned. The ad provoked a quote from Joe Namath of the losing New York Jets: "I didn't get a chance to see it, but I hear it was great!"


| | | | |
| --- | --- | --- | --- |
| | | | |